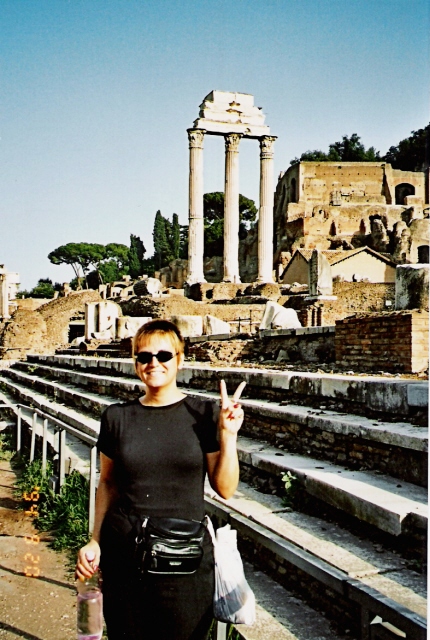 For one magical week in August of 2004, I went to Rome.  In doing this, I satisfied a craving that I have had since childhood to traverse the areas that the Romans traversed; to see and live and feel what such great men as Julius Caesar, Augustus,Cicero, Catullus and Virgil experienced.

I logged my journey as I went; I have over 40 hand written pages.  I also sent logs home to folks who were interested to see what happened to me.

Here you will find a compellation of that journal and the images I took while in Rome.

I hope you enjoy and can experience at least a little of the whirlwind that I had in that great ol' fashioned modern place.

--Brandy

Chapter 1:  The Arrival

Well, the plane landed though it was a bumpy flight with turbulence.  I sat on the plane with a nice young man...we only had comics and movies in common but it was enough.  I did do a lot of reading, but only an hour or two of sleeping due to turbulence and all.  I did watch Shrek II on the flight, which was great because I had meant to see that in theaters and missed it.

The first day I was here I set out walking.  I found two parks and went through them.  One had a dog park -- just like home -- and guess who was in that park?  YES, a pug!  I was thrilled.  I was also happy to note that he misbehaved the whole time so that confirms my thoughts that pugs are universally mischievous.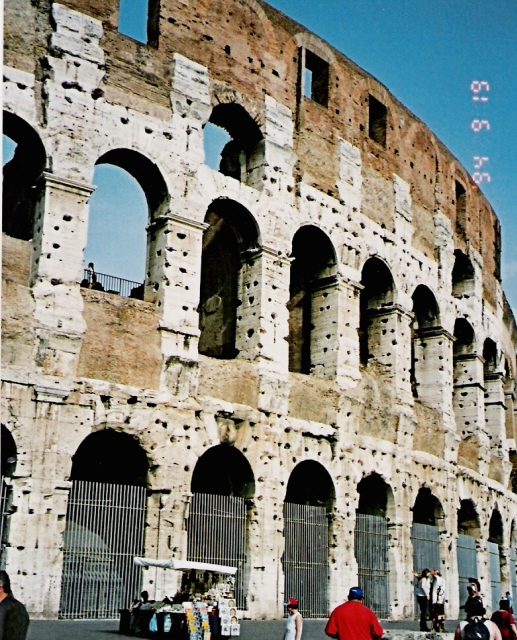 The other park had an Egyptian obelisk and an old run down house...I found out later that was Mussolini's house from WWII.  Wild!  I went the other direction and found a basilica...let me tell you.  They KNOW how to make churches here.  The thing was SMALL by comparison to what I've see, but beautiful.  I was able to contemplate a while and I observed a communion.  It was great.  I also found The Fountain of the Naiads, with a near merman in the center.  I took many pictures.  I also found not one but two Euro pennies, which made me happy.

I ate at an Italian cafe (next to a McDonalds).  I came to the hotel -- which is very nice, quite ornate, though the rooms are small, and the toilets are funky (two separate parts, and a button to push to flush) -- and watched and Italian °Happy Days° and °Laurel and Hardy°....I forced myself to stay up to 9 p.m. Italian time -- which is 6 hours faster than St. Pete time -- and got some sleep.

Today, I went on two very fast walking tours.  I have seen the Pantheon, St Peters Basilica (the Vatican....I left a Euro offering and rubbed the feet of a very famous statue of St. Peter) and St. Pauls Basilica (beautiful windows, and the remains of an ancient graveyard set in mosaic in the wall of the cloister, still used and filled with rose bushes), walked Capitoline Hill to view the Forum, the Coliseum, the Trivini Fountain (where I threw in my coin to come back to Rome).

Oh my...the only thing that I can tell you is that...OH MY.  The Pantheon is HUUUUUUGE!  Beautiful...filled with marbles of all colors and the oculus that shines where the Pagan gods once stood....the bronze doors that tower over...and the dome that stretches 145 feet in diameter.  It was larger than I thought!

The Coliseum...sad because it is so dirty with pollution and stuffed in cracks with garbage.  But, still beautiful....

St. Peters...so large that everything became out of perspective...the Baldaccino by Bernini that reached 90 feet high, the statues that towered over us standing 12 feet tall, alabaster illuminating a carved 5 foot dove....marble and writing and images everywhere...overwhelming!  And to walk in there through the colonnade of Michelangelo...the arms of the church outstretched and embracing (as he intended)....

I have two more tours tmrw.  I go back to the Vatican to view the bones of Peter, and then a 4 hour walking tour of the Forum which I'd like to see much closer than I did today.  I need to get more film.  2 DAYS and I've gone through 6 rolls. 

Rome:  Chapter Two:  Post Tours

This will probably be my final update from Rome...but, it's been a busy couple of days. 

I did attempt to ride the bus system, which did not work out very well for me.  I got on the bus I was instructed to go on, and stayed to the last stop, as I was told, and it was no where near where I wanted to go.  I hailed a cab and went the rest of the way.  Not good!  If you ride the buses here, which are plentiful, try to grab a seat as soon as possible...they lurch and bump down the streets and drive almost as badly as the cars.

I went back to the Vatican, St. Peter's, to tour the underground excavations.  It seems that earlier in the 1900's, there was some question as to the remains of St. Peter, and if they were in the Basilica...the pope of the time ordered excavations done under St. Peter's to validate that he was there.

During the excavations, they found a pagan graveyard.  The tombs were roomed vaults with small arches, urns, and coffins buried in groups.  The graveyard had been covered over by the order of Constantine to build a more Christian site (a memorial to St. Peter).  The remains of Peter were buried in the area and a small monument already stood to the man.  Constantine created a box monument around it, walling in the original site and making it more decorated.  From that time, a church was built on top of the monument, then the first construction of St. Peters, which expanded, was torn down and reconstructed a bit later.  After much work, they did discover the original monument under the ground, and digging deeper, found what they think are Peter's bones.  It was very neat to go through this necropolis...and though the air was chill and dank, very still underneath, I do so think I felt a cool breeze or two stirring down there.  Ah, the ghosts of ages past or merely the stirrings of modern trespassers?

It was also interesting because some of the graves were those of persecuted Christians mixed in.  The Christian graves were different from the pagan graves because of decoration (Jesus shows up in the form of a sun god, grape vines abound, Jonas and the Whale are portrayed, etc.)  Christians also only inscribed the death date (the day they were reborn) while pagans counted the years, months, and days the person lived, but did not inscribe dates. 

After that, I trekked to the Vatican gift shop, where I mailed a post card home to Mom.  I then got directions to the Vatican Museum.  Much of the Museum was closed, but the parts that were open were immense!  I think I took some pictures, but it was so overwhelming.  It was neat because I saw some of the works that I have taught about in HUM I on display there.  :)  I did shuffle through the Sistine Chapel....beautiful!  It's nothing but color at first -- a whole room of color.  The Last Judgment looms on the wall in the front (which I LOVE, especially due to its creepy and morose undertones) and I did see the images on the ceiling (I liked the one of Noah being covered by his sons after drinking too much.  A bit depressed were we, Michelangelo?) 

From there I went to my next tour -- a scholar lead tour of the ruins.  We saw the Column of Marcus Aerelius, the remains of the Temple of Hadrian, the Pantheon again (not as overwhelming, but just as beautiful the second time through), the Flavian theater, an old fish market, two ancient bridges from the 1st century BCE, and then up the Capitoline Hill to the forum.  We walked through the pre-Republic forum (I went to the site where Caesar was cremated; there are still flowers in there for him...wish I had known to bring some...)  We went to Caesar's expansion of the Forum to Augustus's expansion (Temple of Venus and Temple of Mars the Avenger).  We went to a church that had been built in a building that was an old library and still housed a 6th century Christian mosaic that looked brand new, despite very little touch ups...gorgeous.  I hope my pictures of that turn out.  The mosaic had glass and gilded gold and imported stones...marvelous!  Finally, we went to the Arch of Constantine and the Coliseum again.  I wanted to tour the Coliseum, but ran out of time.  I plan to go today.  I will also try to get by the Spanish Steps and maybe do some shopping...?

I met some nice folks on my tours, which was also very good.  Most are Americans, from Las Vegas, Mass., Oregon...but all curious about the same thing. 

The only other negative is that -- for everyone who said ATM cards are the way to go here, phooey!-- I went to get money from the ATM at the bank near my hotel and it ate my card.  The hotel desk man came out and checked, the card was in the machine all right.  I had to go down first thing this morning to get my card out of hock.  They took my passport, checked the card to make sure I hadn't stolen it, I had to sign that I received it.  VERY embarrassing.  I am going back in a few minutes to try and get my money this morning so I can tour a bit more.  I'm glad I brought what I did, though, but I think I'll rely more on cash should I come to Europe again. 

I also hope for some shopping at the Spanish Steps area, if I get a chance.  It's been pretty busy and I am starting to feel the wear and tear now. 

Anyway, I hope all are doing well on the other side of the pond.  Let's hope the plane makes it home and that all is well on that front. 

Roma:  The Final Chapter

The last few tours and the return trip from Rome

The ATM saga continued after the last post; the bank that I was waiting for didn't have the $100 dollars (86 Euros) that I wanted to draw out (after they said they would be able to provide that after their ATM ate my card)  It was very disappointing because I had waited until 10:30 a.m. to try and get some money, especially so I could pay for the 5 rolls of film I had developed in Rome. 

The hotel deskman suggested that I try to go to a bank around the corner.  I got lost trying to find that bank, but saw a beautiful shining disk on the ground next to an ATM as I passed it.  Those of you who know me, guessed it:  Another lucky Euro 1 cent coin.  So, I stopped and used that ATM.  It worked without a problem for me whatsoever.  Hm (On the way back to the hotel, incidentally, I found another 2 cent Euro, and 5 MORE 1 cent Euros along the sidewalk).

I was starting to feel pretty tired at this point.  I think most of the trip, and the pace of the tours, was starting to catch up with me.  I did, however, use my last bus pass to jolt and jiggle out to the Coliseum.  Once I got there, I waited nearly 30 minutes in line to buy a ticket to go in. 

The structure, itself, is huge, but is in decay.  The Italians used parts of the Coliseum for years in other building projects.  As I recall, it was so badly degraded that there was a debate in the 17th and 18th centuries as to if they should demolish the building all together.  It was a close vote, but it was decided to save the building.  Much of it has been bolstered by newer brick walls, and only one section restored to what the amphitheater once looked like from the outside.

They are doing excavations so I could not go to the underside of the building, but I did walk around the perimeter and also went to the top to take pictures.  The view was beautiful!  On the top floor they also had this long winding video view screen, looped almost like a sheet of cloth, and very thin, that showed images of Rome from the 1900's onward, and some of the newly discovered ancient statues from the area.  Many of the statues were also on display  they were buried under the sands of the arena areas, inadvertently hidden over time.  I loved the statues of the Vestal Virgins; there was also a headless statue of Venus, fixing her hair.  The sculpted hair was still in her hands, and so the head was easy to imagine.  Beautiful workssome were so intimately carved that it was incredible to imagine that these figures were stone!

From there, I had free admission to the Palatine Hill.  It was an area of rediscovered ruins; it was interesting to see the original brick that the Romans used to build with.  (They then covered the brick with 1 to 2 inch thick slabs of marble to give the appearance of a marble building).  The ruins were pretty extensive; it must have been a beautiful palace in its day.

After wandering through, I then hailed a cab to the Spanish Steps.  I did climb them; it was so odd because I had the worst sense of de ja vu; a young couple wanted to take a picture; I stopped so he could get his picture of her.  They thanked me, then turned back to the original conversation:  how hot it was.  I looked at the steps again:  the image was overpowering with the sense that I'd done all of that before.  It was most strange.

Then I went to shop.  I got gifts for Mom (hand made yellow Italian glass among other things) and then I got a couple of things for myself:  A Swatch Watch that is BEAUTIFUL; unlike any watch I've seen here in the states  and very hard to describe.  I also bought a hematite necklace.

That night I packed up.  I was up in time to take one last walk around my "friend"  the park that I discovered when I was first there and had walked around subsequently every morning since.  It was the Italian sister to my own "Crescent Lake"I did finish my 4th roll of film (I took 9 rolls of pictures, by the way).  I ate breakfast, paid the balance of my bill, and was picked up at 9 a.m.

The worst part of Rome had to be the wait to go home.  The airport was horrible; I went from one line to another to another.  I was really ticked off because I waited for nearly an hour for one teller to check me in at Delta.  Naturally, his machine didn't work; he didn't process me, closed his lane and sent me to another line.  THEN he re-opened his lane, took in this huge and obnoxious American family and had the audacity to cut in to MY lane again and use my teller's machines to process them, right in front of me.  It took the last nerves I had to remain calm.

I did fine a 10 cent Euro at the airport as I moved to my gate; a good sign for the flight.  I got to the airport 3 hours before the flight; I had 15 minutes to sit at the gate.  It wasn't necessarily crowded as it was SLOOOOOW.

On the flight home I saw "Hildago", which was really pretty good.and also "The Laws of Attraction"it was a quite ride.  We sat on the tarmac for 1 1/2 hours before leaving, which pushed the flight to 10 hours.  With the extra time, I was able to start and finish Cicero's De Officiis (all 3 books), which was really pretty good.  Cicero and I espouse many similar ideas when it comes to attitudes on life, thriftiness, and general philosophies in how to deal with people.

And so, I have a weekend of UNPACKING to do.  As I type this the Greek Olympic Games begin; beautiful opening ceremony that deals with many time periods of the Greeks -- splendid!

As for Rome, I'm glad I went.  I know that I did not have time to do it all, but I enjoyed what I could do.  It certainly bridged a gap that I've had in my life; I can do Europe, and I can do it on my own.  It validated my teaching, it was an answer to my cravings for Classical connections to what humanity is and was.  Perhaps it renews a bit of zeal for life and shakes up the complacency.  It has not ended my unsettled feeling, but expands my mind that life is what I make of it.

Summation of some points:

I LOVED the Italian water.  They poured water in from the mountains via underground piping and the aqueducts.   The water was available from fountains and MANY special water fountains all over Rome.  I had a guide from Australia explain that the water was potable and free; to drink up.  I did; it did not make me sick, and it was one of the purest tasting waters I've ever had.  ICE cold, tooand wonderfully "sweet" for water.  I had some from the Pantheon, the Forum, the Spanish Steps.  It was amazing to walk up to a fountain at the Spanish Steps and see that there was a platform built in for people to walk up to the fountain and get water from the spouting heads.

I can see why people need it, though.  Unlike American, where food tends to be sugary sweet, the Italians LOOOVE salty food.  Very differentand I did have egg/sausage spaghetti, pizza, and a variety of sandwiches, desserts (including ice cream), the native strawberries, and so on.

I went during a holiday season for many Italians, who go to the mountains for the month of August.  By no means did that affect my trip; maybe 1/5th of the stores were closed, but so what?  There were a TON that were still open.  If 4 million people are there, not all can leave!  Besides, it made Italy a little less crowded, and the drivers I spoke to said that the traffic was incredibly light.  It took half an hour to get me from point a to point b, where normally it would take 2 hours.  When I go back (having put a coin in the Trivi, I must) I plan to go around the same time.

Would I want to stay in Rome?  Probably not.  While I loved the visit, the people, the history, the satisfaction, the things to do, I would NEVER want the magical sensations that I felt to fade.  If I lived in Rome and had access to these all of the time, would I become like most Italians and simply lose interest in the past that is there?  I would never want to risk that.  Secondly, I couldn't drive there, and thirdly 4 million bodies that are normally there in that small area would be hard for me to take.   Space does seem to be at a premium.

Well, I shall go back to trying to adjust to my time zone and watching the Olympics.  I hope all finds you well, and I thank you for reading of my adventures. 

Vale!

Factoids:

--Originally named for a giant statue that stood next to it

--It is an ampitheater, or two regular theaters combined together into an oval - shaped building

--It was made of brick, then layered with marble

--It was, at one point, almost considered for demolishing in the 17th century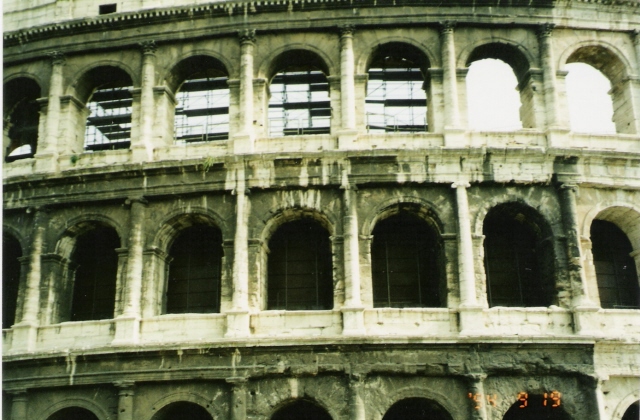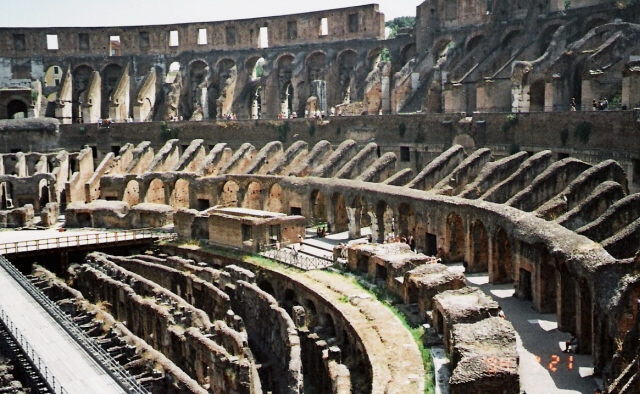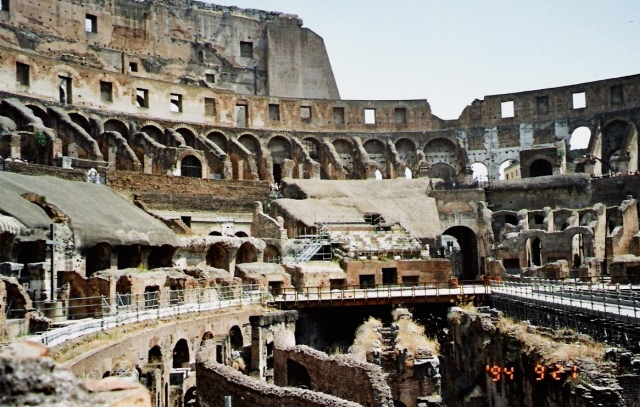 Inside; left and right hand views.  Center:  tunnels where gladiators and animals traveled; on top was the "stage"...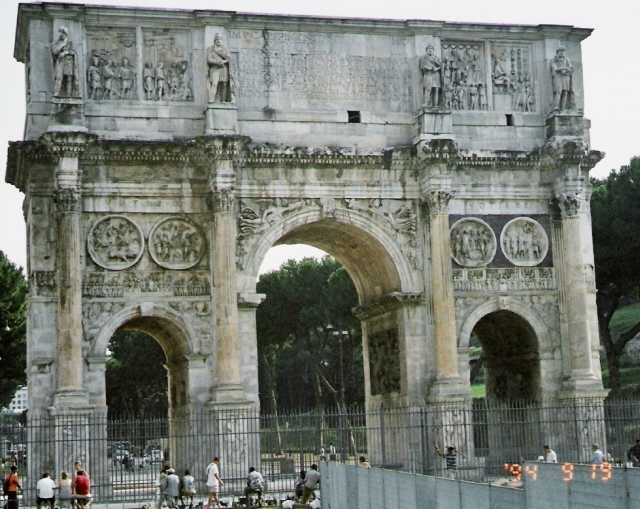 Factoids:  Cobbled together out of images and statues used by Hadrian (medallians are hunting scenes from Hadrain's reign.  Hadrain stopped Roman expansion, so hunting was his replacement for army images), Trajan (statues standing at top are Gauls, who Trajan conquored), and Marcus Aerelius.  Together, they represented peace (Hadrian), triumph (Trajan) and thought (MA).  Constantine was a sneaky man in a weakened Empire; propeganda helped assure his successful reign.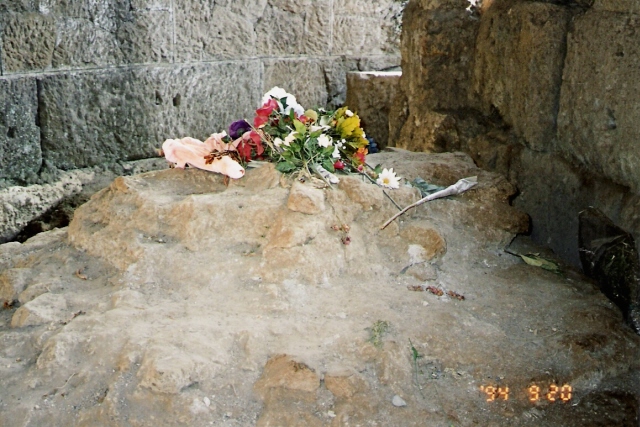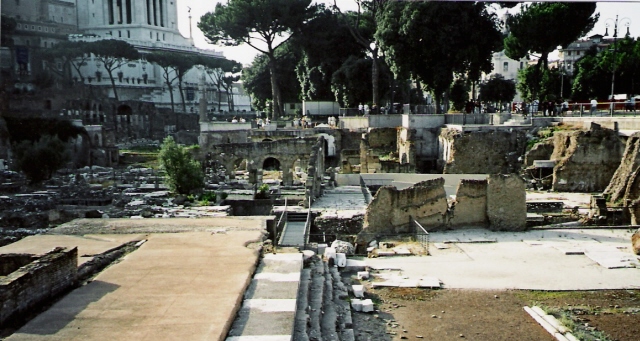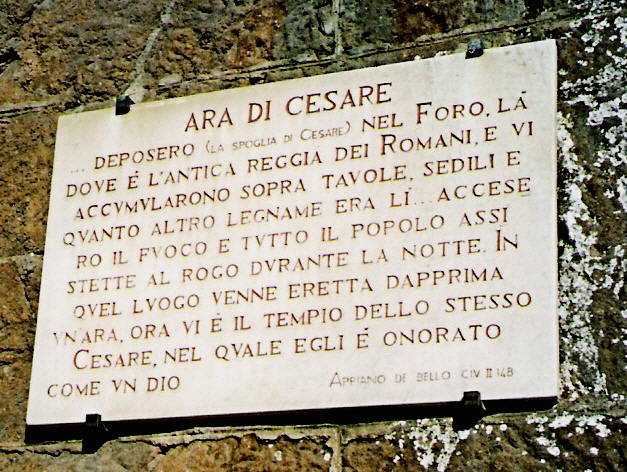 --Last of the Republic leaders

--His death paved the way for Augustus Caesar and the EMPIRE period.

--Proclaimed Consul for Life

--Wept while walking by a statue of Alexander the Great because Alex, at Caesar's age (25) had conquored most of the known world.

Caesar was killed here --->


TRUIMPHALCOLUMN TO MARCUS AERELIUS

Factoids:

--Stoic philosopher and emperor resigned to his position as leader or Rome.

--Fought wars against the Germans

--Kept a diary of his thoughts/philosophies which can still be read today.

--This is a hollow column; people used to climb up inside it to the top to see Rome.  (It cannot be done now).  Note small rectangular windows spread throughout column for folks to look out and air to come in.

--The statue at the top is St. Paul, patron saint of Rome.  It used to be of M.A. himself, but later Christians melted it down for a more sacred protector.


--As Rome conquored Egypt during the reing of Augustus, they took as prizes 13 obelisques, stationed throughout the city of Rome.

--There is at least one obelisque rumored to be a fake; it was carved much later in history and errected; its hieroglyphics are false.

--This is the only one with an obelisque riding atop an elephant

--Other places to find obelisques include St. Peter's Basilica and the Pantheon.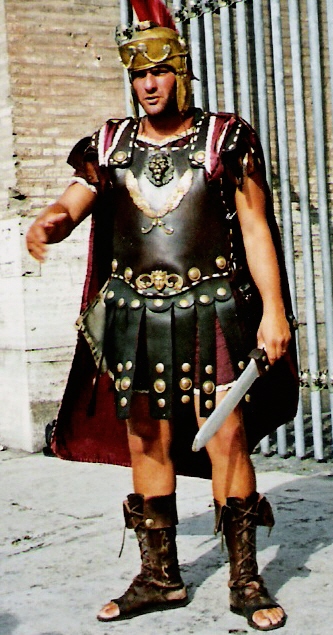 Modern Romans dressing up like ancient Romans.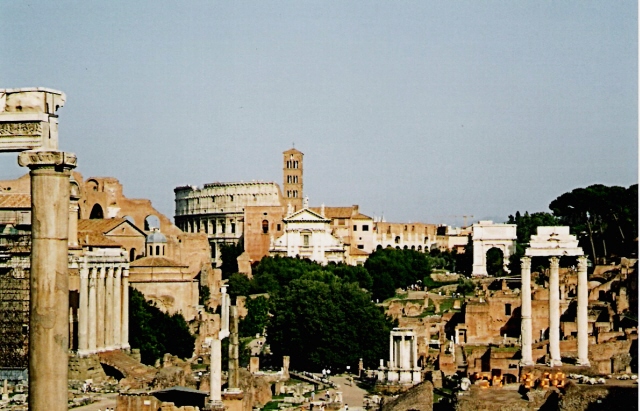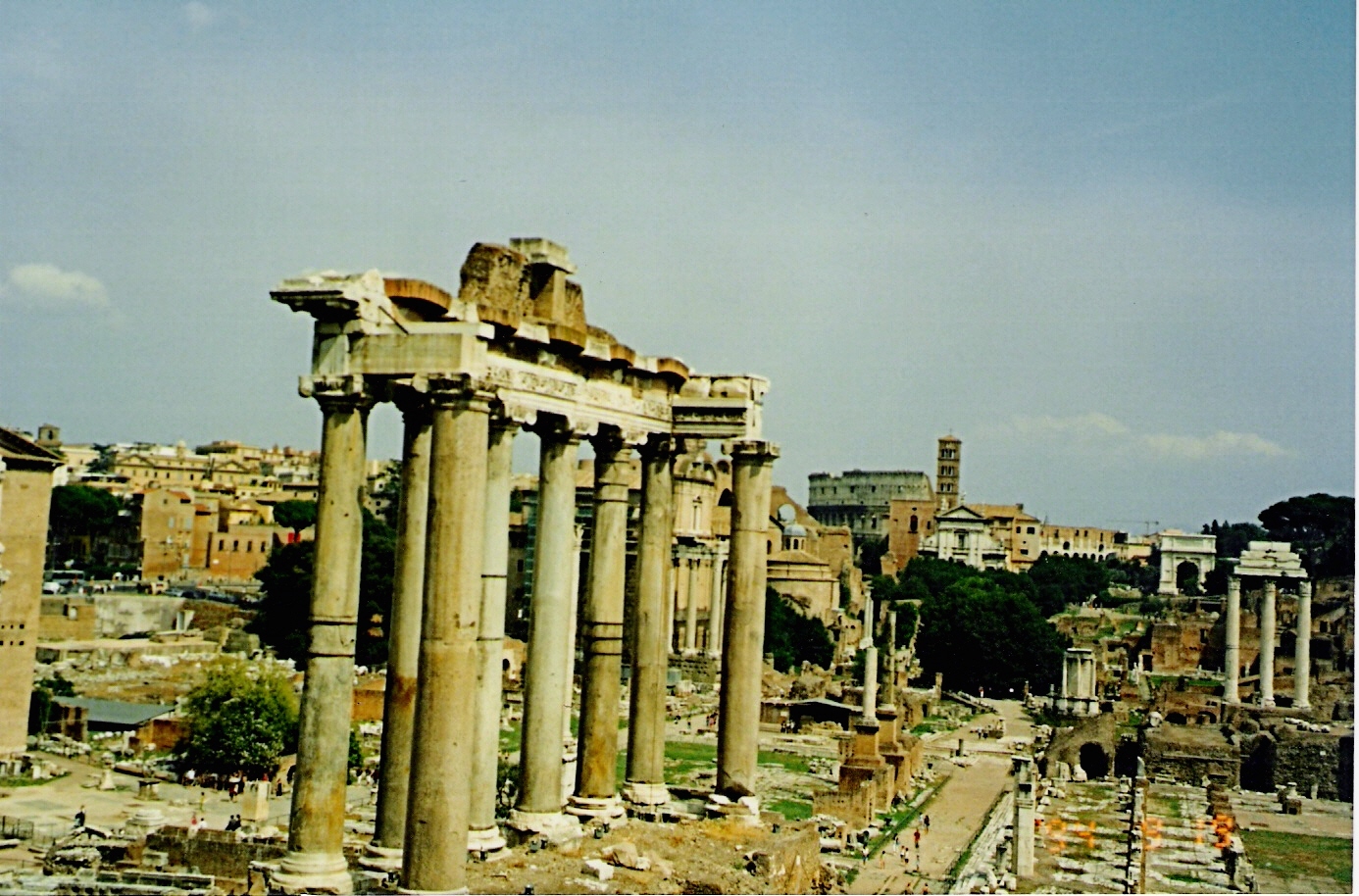 Temple of Saturn (center)

Temple to the Gemini Twins (Doscuri)

<---

Triumphal Arch of Titus (below)

(Above) Rounded temple of Vesta; Vestal Virgins lived in back of it

This page was last updated on: July 30, 2009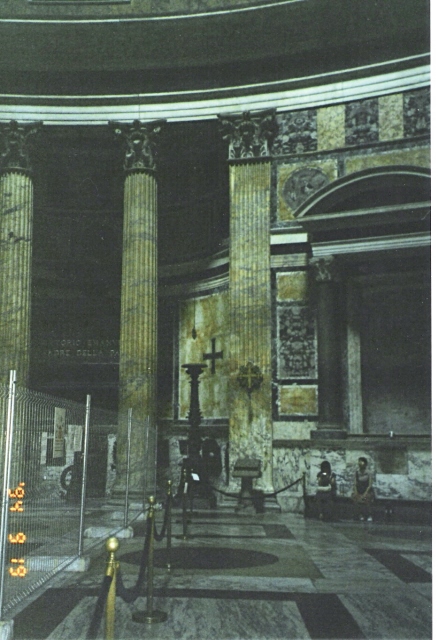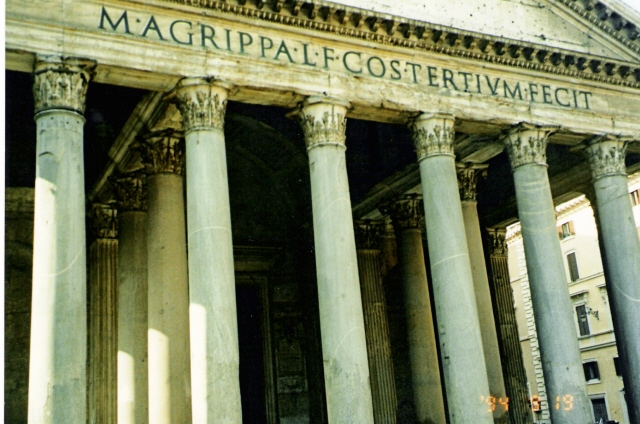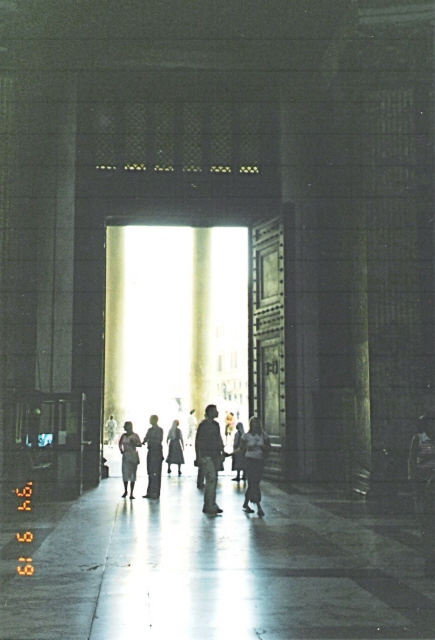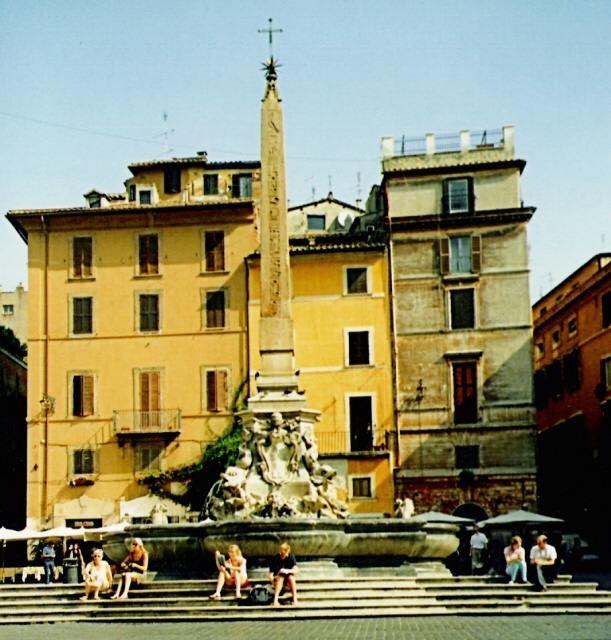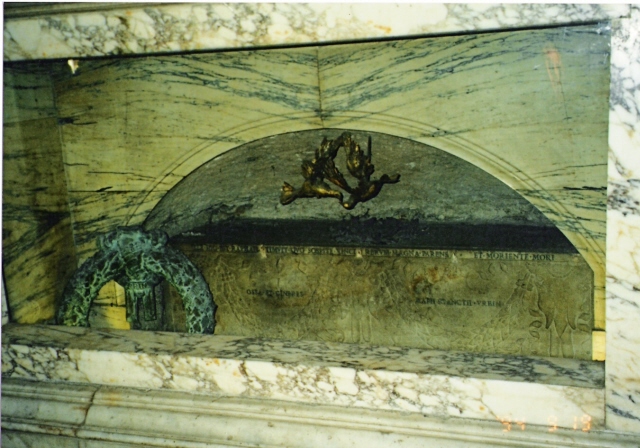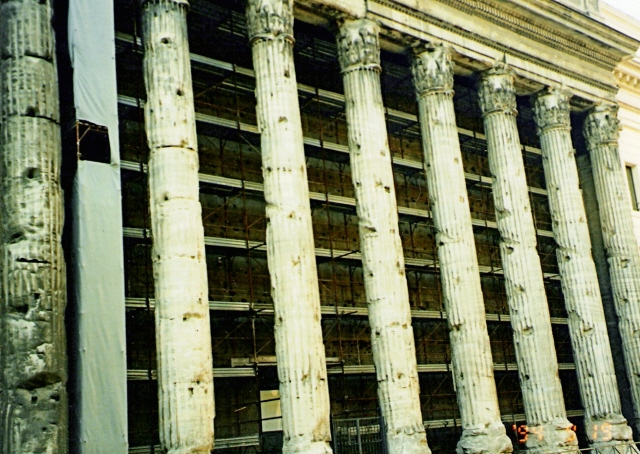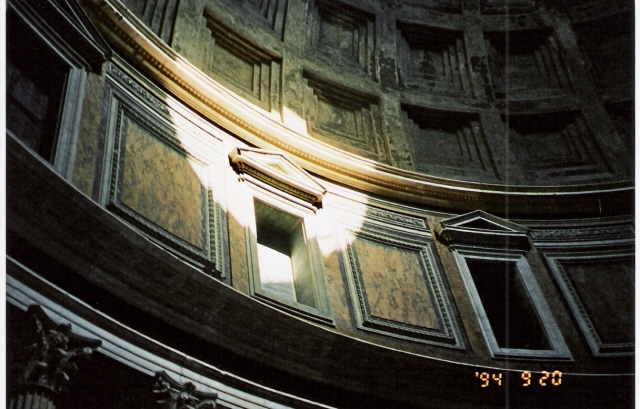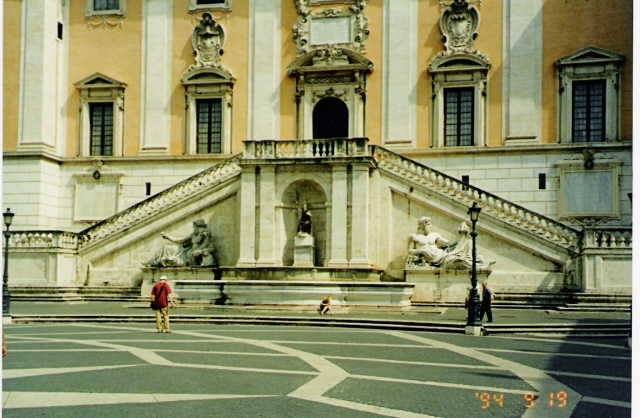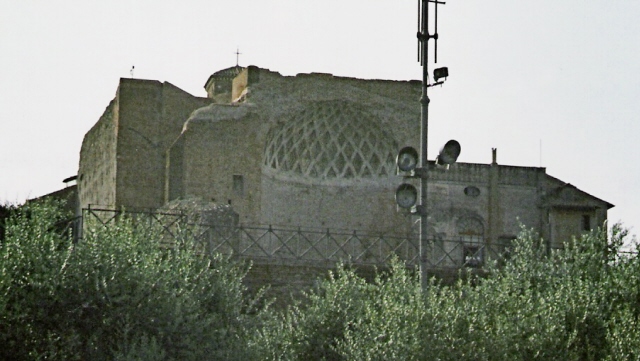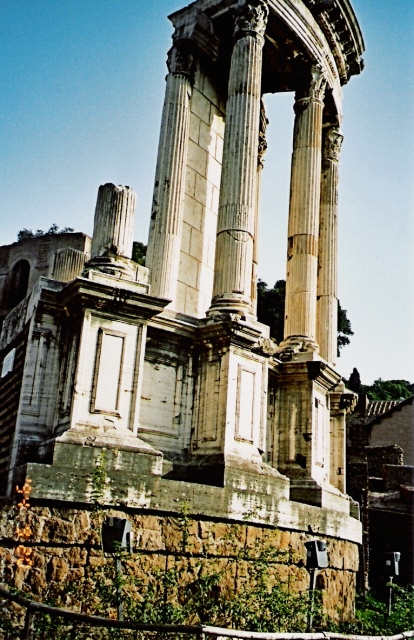 Temple of the Vestal Virgins

Factoids:  *Vestal Virgins were dedicated to the job at the age of 7, and could leave after 30 years service.  Few did because they had special powers, including the ability to go to the games, to pardon prisoners on their way to execution, and they had statues made of themselves (below -- found in the Coliseum). *  The Temple was round in structure, possibly hailing back to the Etruscan designs.

*Built and dedicated by Julius Caesar *Venus was said to have thrown the body of Caesar up into the sky at his death, where it transformed into a guardian figure made manifest as a comet. *Julius and Augustus claimed descent from Venus through Aeneas and his son, Iulius.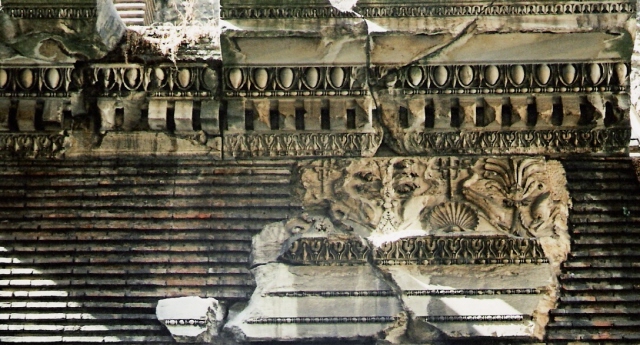 Not much remains of this Temple, but we see enough to know it is that of my favorite god, Neptune, king of the sea.  The original merman.

Factoids:  *Emperor Hadrian represents the decline of the Empire.  It was he who stopped the expansion of Rome.  *He toured the Empire often, associating with the troops to keep their spirits up and rebellion down. *His line to Trajan was questionable as he, alone, heard Trajan declair him the new Emperor.  *To make up for the lack of war, he built many things, often depicting himself as hunter to keep his image as a masculine Emperor. *However, he nearly missed becoming divine at his death; it was a close vote.  Nonetheless, he made it and here is his proof:  his own divine temple.

Factoids:  *Today it is an active and sanctioned Christian Church.  *The doors, spanning up 90 feet, are made of bronze and are the original Roman doors.  *The dome is designed to remain uncovered and open to the elements.  However, air pressure inside the dome diverts some rain.  Observers on a lightly rainy day can see the droplets turn and slide down an invisible "top" to the dome.  *This is the third building of the Pantheon.  Two more existed during Roman times but were destroyed.  This is the first one to have a dome.  *Raphael, the Renaissance artist, is buried here.

(left)  Fountain with obelisque.  Below:  Entrance to Pantheon.  It says "M. Agrippa built this in his third term."  Though this is the third version of the building, and not Agrippa's original, Hadrian paid for reconstruction and chose to dedicate it to the original builder as a "modesty" effort.

Original marble from across the Empire made the floors (above) and the Oculus' light shines in on empty niches (left).

A favored high Renaissance artist, Raphael died at a young age (37).  He earned the Pope's favor to be buried here in the Pantheon.

Factoids:  *One of Michelangelo's last building projects, the stairs themselves are part of the plaza Michelangelo designed.  He died shortly after the stiars were finished, but his design was so popular that it was adhered to -- three buildings and a floor design created by M. were implemeted and built over the next 400 years to be finished in the 1940's.  *Michelangelo used Roman statues of the Tiber and the Nile to decorate these stairs.  Nile is on the left and leans on a sphinx, the Tiber is on the right and shows Romulus and Rmus with the She-Wolf. *An ancient statue of Athena has been transformed into "Roma" (middle).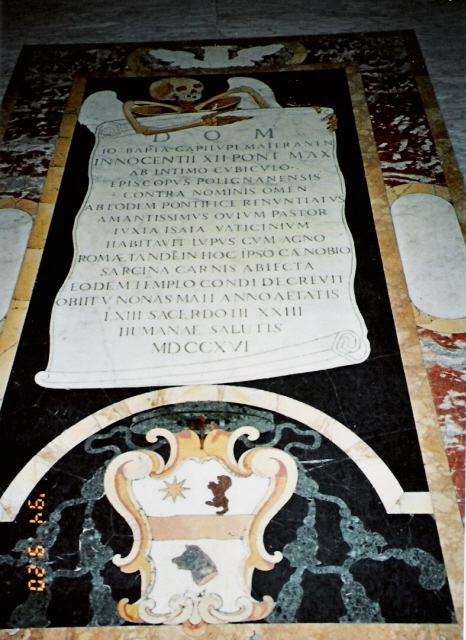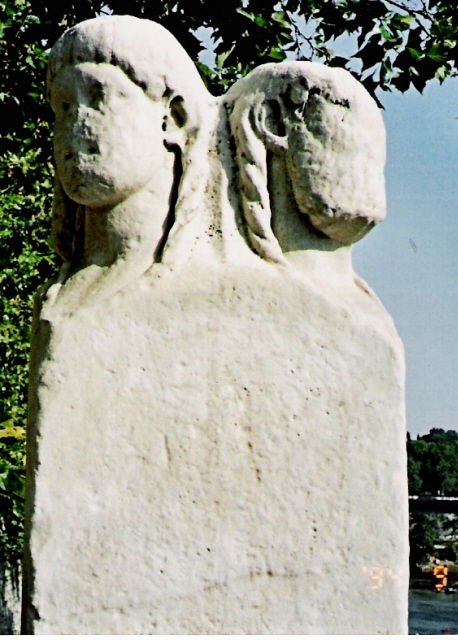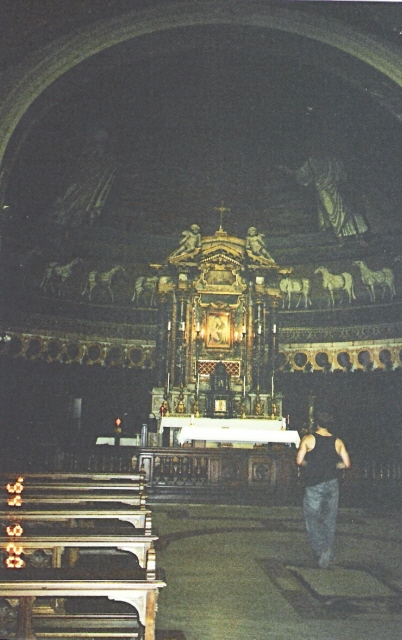 Factoids:  Janus is the god of now and later, here and there, time before and after (hence "January").  *This is technically a "herme" or a marker stone denoting property. *In the Middle Ages, the bridge became known as the "Bridge of the Four Faces" -- the meaning of the Janus totally lost. 

I regret that I do not have the name of this church in my notes. 

Factoids:  *The building was originally a Roman library.  One of its rooms was used by Emp. Constantine for conferences.  It was later converted into a church in the 6th Century.  *It has an original mosaic of the Final Judgement (below).  This mosaic has gilded glass in it, and is entirely original (minus some minor touch up to a couple of the figures faces).  It shows Jesus descending from heaven on flame-colored clouds.  Peter and Paul are with him, and each presents the church patron (who holds a model of the church in his hand) and the church's saint.  At the base of the mosaic are 7 lambs converging on the source of the 4 rivers, flowing from a stone upon which a halo-bearing sheep stands.  *A Macabre image (?) -- or at least one *I* like -- depicting the grave of Pope Innocent the 12th.  He lies beneath the floor in front of the alter.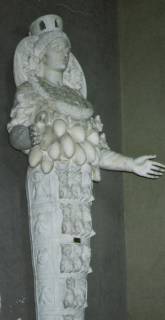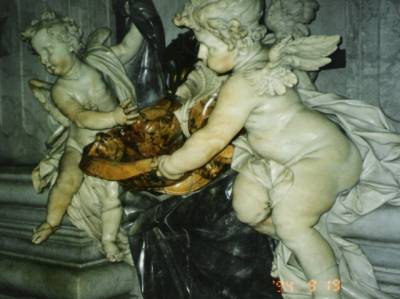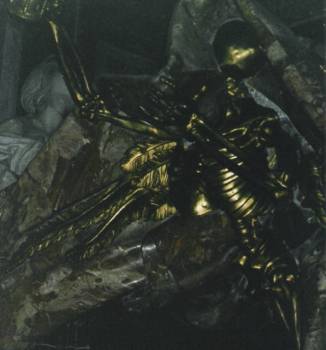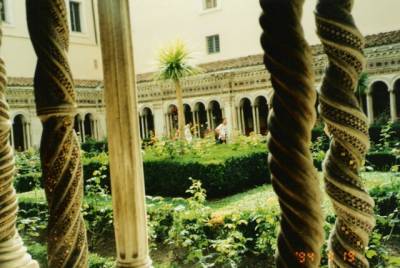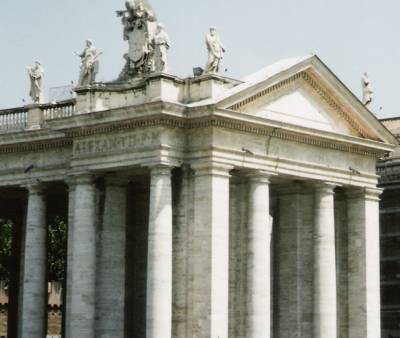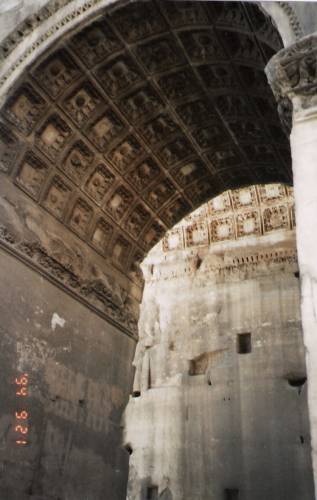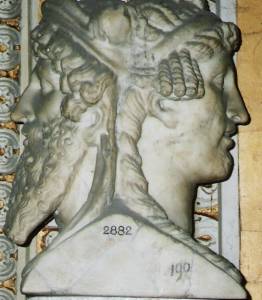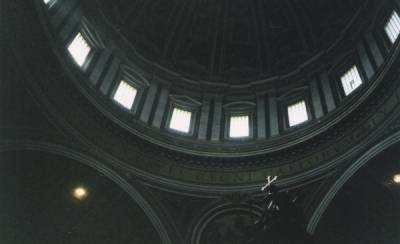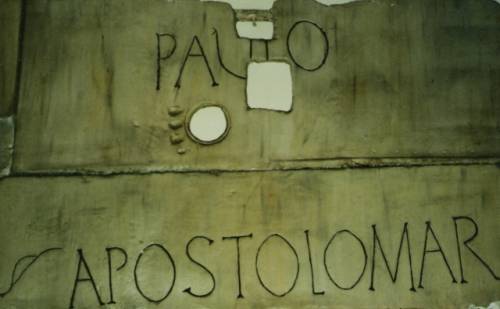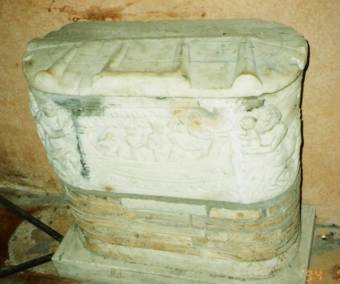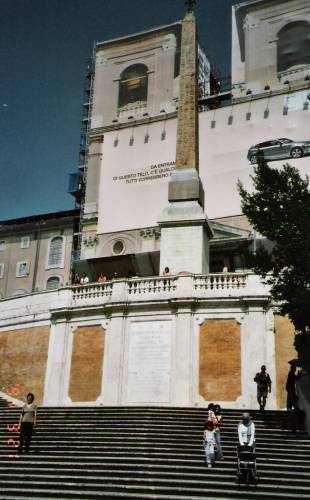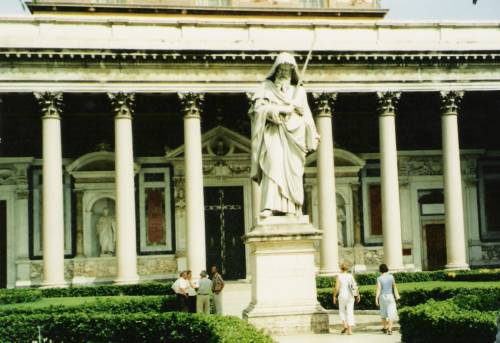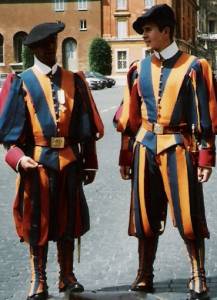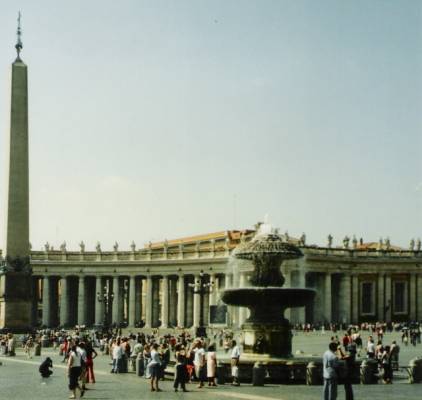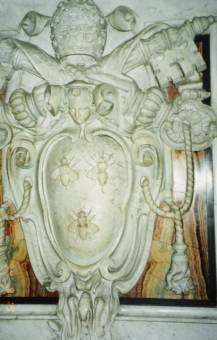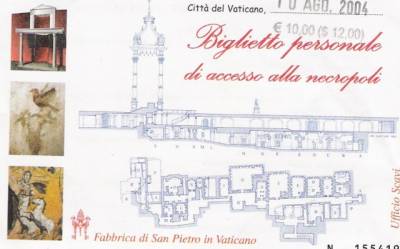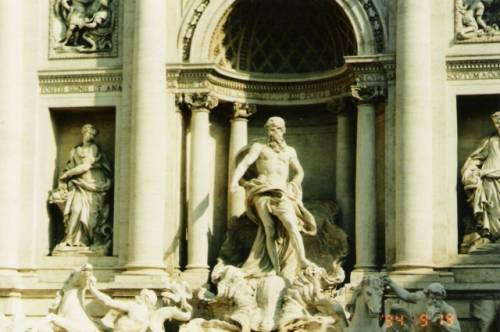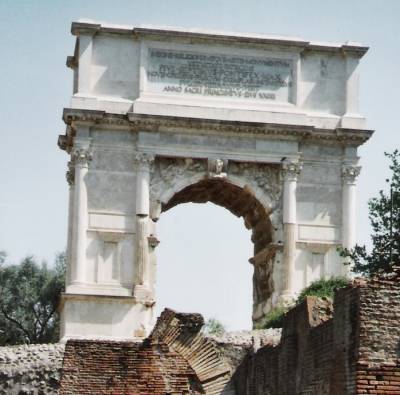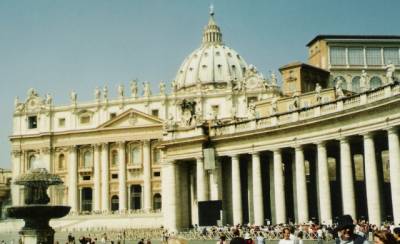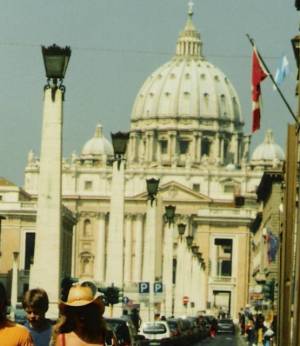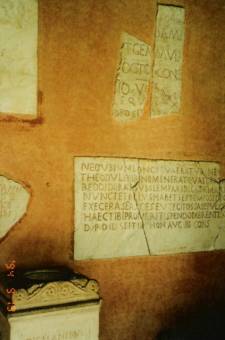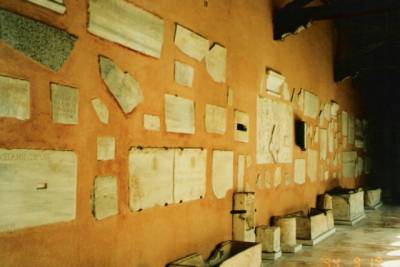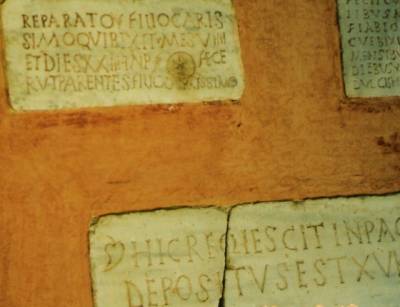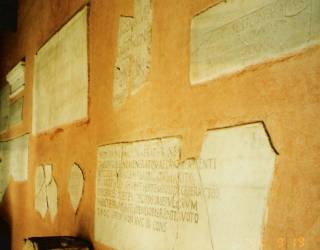 Triumphal Arch (Titus)

Factoids:

*Built by Romans to purify

themselves after battle -- war

left the blood of enemies upon

the soldiers.  The original gates

were constructed of wood, but

served the same purpose of

purification.

Elaborately carved; intricate

and ornate.  Inside view (right).

Factoids:  *Paul and Peter are the two patron saints of Rome.  Paul is especially important because he was a Roman citizen and travel throughout Rome itself.  *Paul is identified with the sword, as he was at first a soldier, then, later, a convert.  *The original church burned down in a fire; this is a reconstructed church.  *Beneath the alter is the alleged tomb of Paul, whose replicated grave is found below. 

An ancient pagan graveyard was found under the site of the church.  With the reconstruction, the tombstones were made into a wall mosaic, stretching around the cloister area.  Many early Christian symbols can be found among the tombs, including the dove (Holy Spirit) -- one of the earliest known renditions of the Holy Spirit known.

Replicated tomb of Paul, the "Apostle who was killed for his faith"

A few remnants of the Middle Ages can be found here.  One is the column at right; carved out of a Roman column, it reflects the stylized works of the Middle Ages.  The cloister, left, is the oldest cloister still in use.  The columns were carved by hand by individual monks.  (The pagan graveyard surrounds this area).

St. Peter's Basilica (Vatican)

The dome of Michelangelo dominates the sky line approaching St. Peters.  Michelangelo's colonnades also frame the courtyard leading in.  His design is meant to create a vision of the embracing arms of the church. 

The courtyard with dual fountains (one pictured below) and the obelisque said to contain a piece of the True Cross, found by St. Helena (Emp. Constantines mother) in the 4th century CE.

Some of the famed Swiss Guard.

Inside St. Peter's, my poor camera nearly died of exhaustion.  The place is magnificently huge.  I got few good pictures inside due to odd lighting and the immensity of the place.  Below is the inside of the dome of Michelangelo.  Words writtin in 5 foot script describe Peter as the rock upon which the church is built, and Peter as having the keys to the two kingdoms (earlty and heavenly).

Bernini, of the Baroque Era, rebuilt St. Peters under Pope Urban VII.  Urban's symbol is everywhere -- it indicates his family crest with the three bees, and the keys of Peter.  (Sometimes it's good to be Pope!)

Bernini designed all of the sculptures inside, including this angelic font near the entranceway (right).

I loved the skeleton/Angel of Death (right).  His face is hidden in marble "cloth" of the wall, his wings are rotting, and he holds the hourglass reminding us that we are all mortals; our time is running out. (Imagine how long it would take to polish that guy!)

I went on a Necropolan tour (right) under the Vatican to visit St. Peter's bones.  We walked through an ancient pagan/early Christian graveyard underneath the Vatican to the original tomb, partially excavated, under the Baldaccino (main alter) above ground.  What kills me, as a ghost investigator and one who studies death in religion, is that I could not take ANY PICTURES!!!  So, this is all I can show you.  But, if you ever get the chance to go and do this tour, by all means, do!

I did go to the Vatican Museum.  I took many pictures, but I have chosen the two below.  An image of Janus (looking back and forward -- below) and the Artemis of Many Breast (right).  I spent hours at the Museum and did not even begin to scratch the surface of all there was to see; many of the floors were closed.  They have Egyptian art, Raphael room, tapestries, ancient arts, Christian art, the Sistine Chapel (which I did see, but they won't let anyone take pictures there so there are none for me to show you here).  When I go back to Rome, I'm going back here to see some "old friends" -- many of whom I have spent years teaching about.

TRIVI FOUNTAIN Factoids:  *Legend has it that a person must toss a coin into the Trivi; it ensures that a person will return to Rome.  *It depicts Neptune triumphant, with Triton and Nereus (?) flanking him.  (Personal note:  I love the mermen on this fountain.  If I could have found a decent replica I'd have brought it home.  GEORGOUS.  And, I did throw my coin in so I MUST go back).

SPANISH STEPS Factoids:  *Great shopping district

*Named after a stairway in Spain that greatly resembles this particular style.